Recent News
Wednesday, September 23, 2020 10:47 AM
How do you plan on keeping the ongoing COVID-19 pandemic from further impacting the city while also following through with your promised plans?
First of all, it's a team effort. I look forward to working with the new City Council. Every council member will bring their talents and their experience to work on policies together. I have a pretty direct business approach; I've lived here for 41 years; I've built buildings that contain a lot of value and a lot of our opportunities for entrepreneurs. The question is how are we going to deal with the pandemic or the fallout repercussions of that. I believe in Scottsdale.
I believe that we are eager to just explode forward in a very prosperous way. So when this pandemic starts to clear up and as it starts to clear up, I know that the Scottsdale character in all its divisions is going to do it. My architecture has been landmark architecture. I made buildings that became postcards and that's why people have such a great image of Scottsdale internationally, regionally, and locally. So that's a human scale that's so important for our identity as well as the open spaces, so that's a wonderful character.
One of the biggest assets, besides my planner architect's skills, is that I will devote 100% full time as mayor.
Scottsdale Independent https://www.yourvalley.net/scottsdale-independent/stories/pivotal-november-election-hangs-future-prosperity-of-scottsdale-in-balance,18916
---
Saturday, September 19, 2020 1:52 PM
Former Scottsdale City Council members David Ortega and Lisa Borowsky are on their way to a runoff for mayor in November after a majority of Scottsdale voters sent a clear message that they wanted a leadership change.
Concerns about development and responsible growth have dominated City Hall for the last several years, culminating in citizen-driven efforts to prevent commercial development in the city's desert preserve and taller buildings in Old Town.
It has been over a decade since Ortega, the top vote-getter in August's primary election, last served on the council, while Borowsky vacated her seat in 2013. But many of the issues that the candidates faced during their time on council still resonate today.
For Ortega, it was a controversial land deal that Scottsdale residents rejected after sending the issue to a vote.
---
Sunday, September 13, 2020 7:23 PM
"So there's no way something that extreme would ever be considered in Scottsdale," Dave Ortega said.
The Verde Valley residents opposed to Spring Creek Ranch said they, too, are just trying to preserve the low density and open space that drew them to the Verde Valley in the first place.
Read full Scottsdale Progress article published 9/13 /2020
https://issuu.com/timespub/docs/scottsdale_progress_091320/1?e=8633901/80768906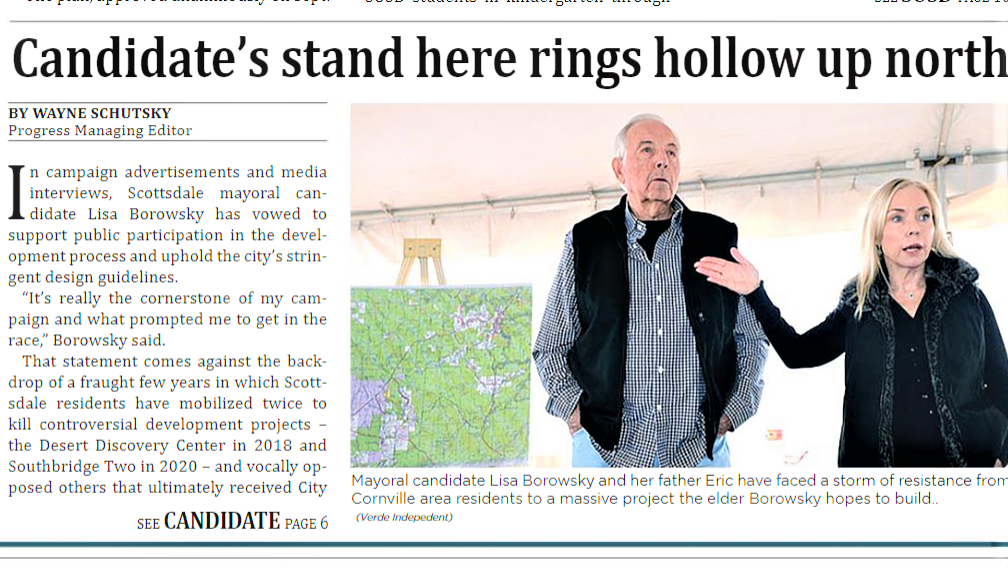 ---
Wednesday, August 12, 2020 7:33 PM
Final count sends Ortega, Borowsky to mayoral runoff in Scottsdale; 6 candidates to compete for 3 council seats
Lorraine Longhi
, Arizona Republic
Former Scottsdale City Council members David Ortega and Lisa Borowsky are on their way to a runoff for the mayoral seat in November.
While there was a back and forth for the third place finish, the top two vote-getters held their positions for much of last week's ballot count. Ortega got 15,076 votes and Borowsky got 14,850 votes, in the final unofficial results released Tuesday.
Council member Virginia Korte came in third place over Bob Littlefield by 16 votes. Council member Suzanne Klapp, who was endorsed by term-limited Mayor Jim Lane, trailed further back in fifth place.
No candidate in the crowded mayoral race got more than 50% of the votes needed to win outright in last week's primary election, sending the top two vote-getters to a Nov. 3 runoff.
Ortega and Borowsky's finish over the two council incumbents would indicate Scottsdale voters were ready for change.
He credited his long history in Scottsdale for his wide base of support.
"My whole life story is here in Scottsdale," Ortega said. "That really shaped me, and I think people recognized that and they could relate to me."
"Voters feel City Hall and city government has been out of touch with how they see the city of Scottsdale evolving," Borowsky told The Republic.
Council runoff
In the race for three Scottsdale City Council seats, no candidate received a majority of the votes cast to win outright in the primary. Vote leader Betty Janik fell 28 votes short of that.
Guy Phillips, the only incumbent in the race, trailed substantially behind the top four vote-getters, but still qualified for the runoff. Phillips was criticized earlier this year by the governor and many others for using the phrase "I can't breathe" — the same words George Floyd said before dying at the hands of Minneapolis police — as Phillips rallied a crowd protesting government mask mandates in late June.
Ortega said that he had reached out to all of the council and mayoral candidates to discuss their ideas about how to improve the city.
---
Monday, August 3, 2020 11:29 AM
Scottsdale Independent - Short-term rentals
Ortega: Confronting short-term rentals
Last night, another shooting at a Scottsdale short-term-rental. The looting at Fashion Square was planned and staged from a nearby STR.
Often seen, occupants at STRs jumping off patio roofs into pools. What is the city doing to halt the general disruption in our neighborhoods, overstuffed trash receptacles and misused recycling containers?
All of the above are intolerable in our family-friendly neighborhoods. Near my house are four short-term rentals, excess cars on the street, the occasional long limo and six passenger beer buggy.
On the way to Pueblo Elementary, kids have to walk the gauntlet between two corner short-term rentals. Next to one STR lives a family with four young daughters. Unacceptable.
Scottsdale zoning was 96% residential and 4% commercial, excluding the McDowell Sonoran Preserve. Along came 7,000 short-term rentals and changed the ratio to 7% commercial and 93% residential use. All done without City Council rezoning action.
STR encroachment is hurting our city and adding COVID-19 contact concerns.
Our hospitality industry abides by strict training, monitoring and disposal of personal protection items, but the STRs I see have no such discipline. What can be done?
When I held office, we instituted the most basic, constitutional prerogative, local control on distancing. At that time, through public hearings, we were able to define, study and adopt acceptable distancing rules for massage parlors and tattoo shops.
Similarly, in 2016, the council examined medical marijuana dispensary proximity to schools, churches and parks. There is a legal process, which is upheld in courts, allowing home rule.
The Arizona Legislature took away local control of short-term-rentals, in favor of the special interests STR consortiums. Until the Legislature becomes more resident friendly, Scottsdale must lead and marshal municipal allies to reclaim our neighborhoods.
There is enough evidence of the nuisance factors, poor management, burden on our police and code enforcement to justify city regulation on distancing. Short-term-rentals should pay commercial property tax and abide by sanitary and nuisance rules. The council did increase fines imposed on STR violators. But the intrinsic ability of Scottsdale to mitigate the problems should be tested.
I am the only candidate for mayor to ask for an end to proliferation of short-term-rentals. It is time for Scottsdale to test our constitutional rights. As the next mayor of Scottsdale, I will make City Hall more assertive, so that short-term-rentals can coexist without overwhelming us. Distancing is the first step.
Editor's Note: David Ortega is a candidate for Scottsdale mayor in the Aug. 4 primary election.
---
Friday, March 13, 2020 8:08 PM
Scottsdale mayoral candidate Dave Ortega qualifies for ballot
Scottsdale mayoral candidate Dave Ortega qualifies for ballot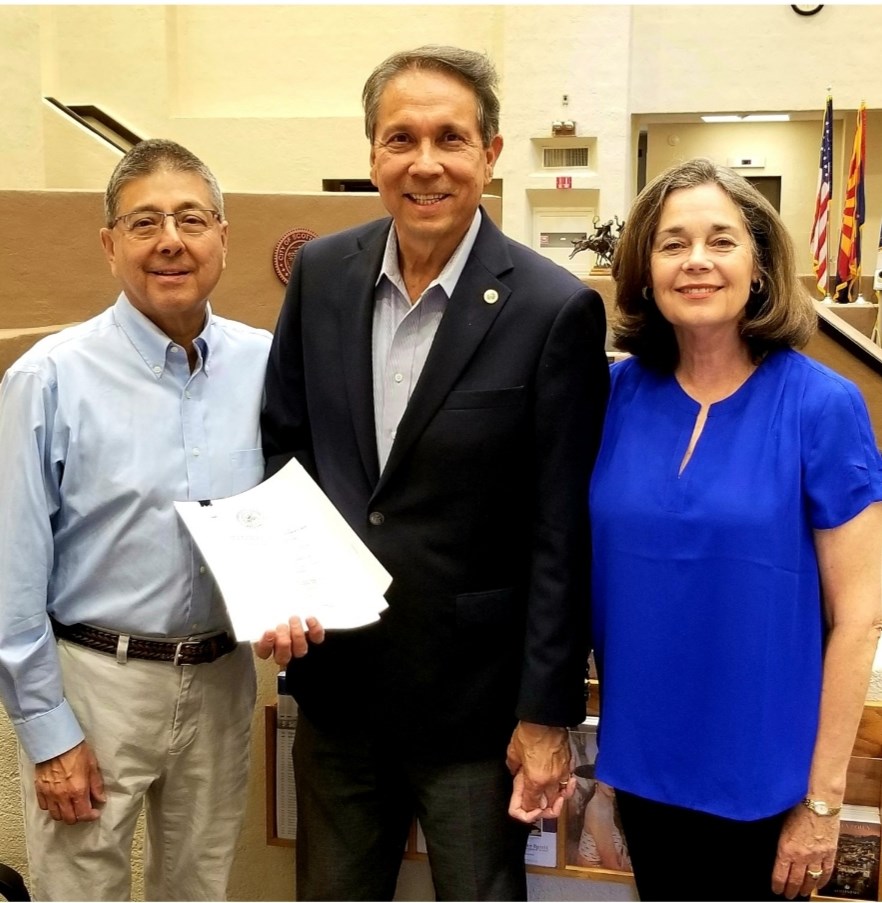 (Submitted photo)
Pictured at City Hall from left is B.J. Gonzales, committee chair for Elect Dave Ortega Mayor; candidate Dave Ortega; and Rosemary Gannon, Mr. Ortega's wife of 39 years. BJ Gonzales is the son of Bennie M. Gonzales.
Posted Friday, March 13, 2020 3:35 pm
Scottsdale Independent Newsmedia
Scottsdale mayoral candidate Dave Ortega qualifies for ballot
On March 9, David "Dave" Ortega, candidate for the Office of Scottsdale Mayor submitted the first wave of signed nomination petitions to qualify for the primary election Aug. 4, and general election on Nov. 3.
"Our 22 volunteers gathered signatures for the first-round submittal which was accepted by the Office of City Clerk, Carolyn Jagger," said Mr. Ortega in a prepared statement. "I personally met over 650 Scottsdale residents, families and visitors from all over the world. The response has been overwhelming and we will continue to collect signatures up to the April 5 deadline."
"I am running for mayor, because like you, I believe in Scottsdale! Over the last 41 years, working as a Scottsdale architect in the private sector and as an elected City Councilman, my experience has been pro-development. Pro-development, the 'Scottsdale-Way,' respects our western heritage, maintains open mountain vistas, and favors low-density, whether in Old Town or near our McDowell Sonoran Preserve," he said.
"My experience as a City Councilman (2000-04) and 10 years serving on the Design Review Board taught me to balance pro-development with our guiding principles."
In 1978, Mr. Ortega came to Scottsdale as an apprentice architect, fortunate to work with Bennie Gonzales, FAIA, the designer of the award winning Scottsdale City Hall, library, Center for the Arts and Civic Center Plaza. Bennie Gonzales helped shape the allure of Scottsdale by designing with a deep respect for the Sonoran Desert, according to a press release.
In 1984 Mr. Ortega established David Ortega Architect & Associates in Old Town Scottsdale.
In 1979, he was fortunate to meet the love of his life, Rosemary Gannon who grew up in Scottsdale and graduated from Saguaro High School. In 1980 they were married at St. Maria Goretti Church and in 1983 they were blessed with newborn, Alexandra.
The Ortegas bought their first home in the Park Scottsdale neighborhood, situated near the greenbelt, only minutes from Old Town. In 1985, son Luke was born and Mr. Ortega opened his architect office on Fifth Avenue in Old Town.
Alexandra and Luke, met life-long friends while attending Pueblo Elementary, Mohave Middle and Saguaro High schools. Scottsdale Unified School District prepared Alexandra, who received a degree at the University of Arizona and Luke who graduated at Yale University and serves as a U.S. Diplomat.
Add your news summary here.
---
Wednesday, March 11, 2020 6:28 PM
Southbridge II
Ortega: Scottsdale City Council should avoid interference in
SouthBridge 2 referral
Posted Thursday, March 19, 2020 5:49 pm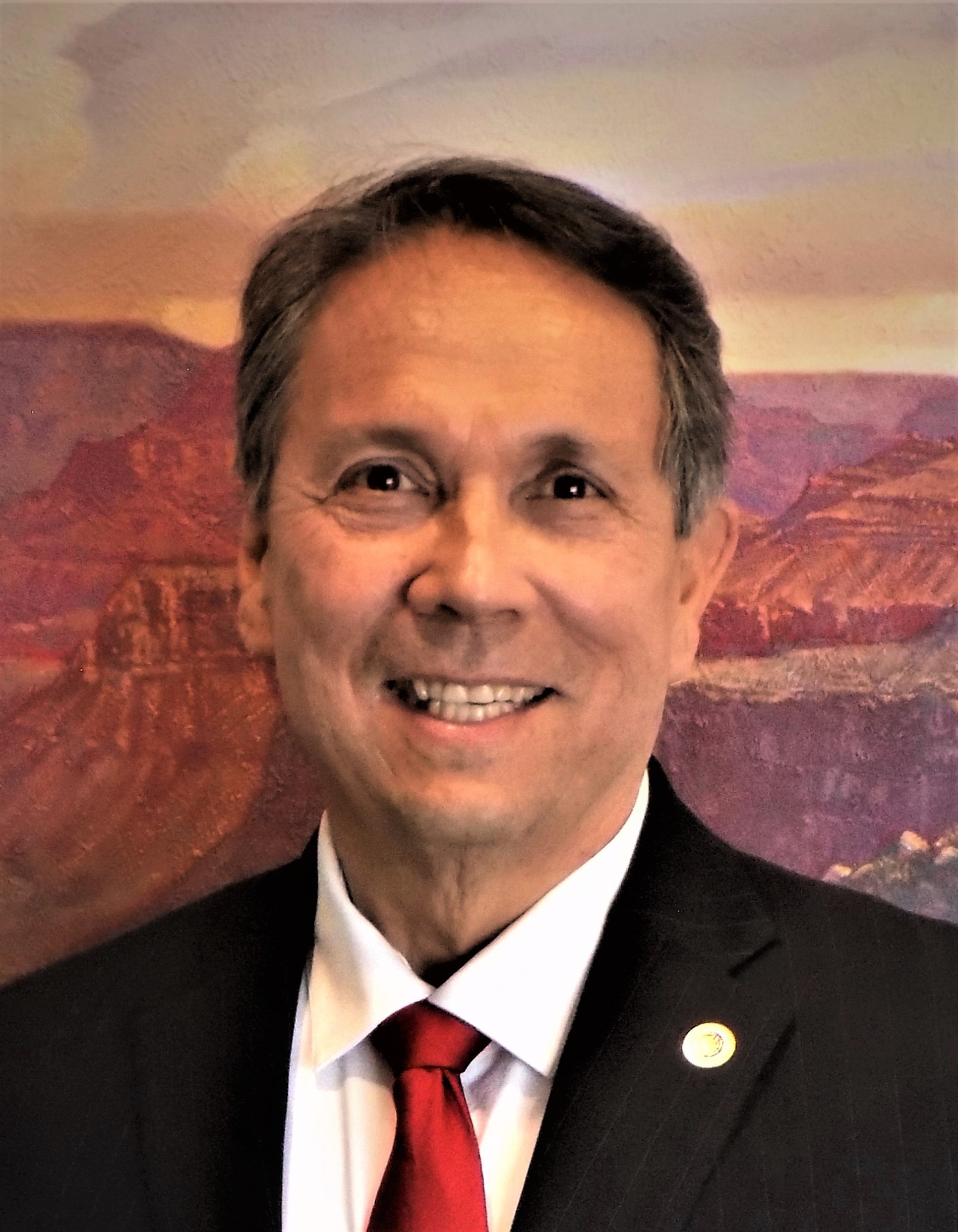 By David Ortega
Honorable mayor and Honorable council members:
As you are aware, on March 18th, the Southbridge 2 ownership voluntarily withdrew their appeal, which had been entered at the Arizona Supreme Court.
Accordingly, the Superior Court decision upholds the public referral right to move forward to overturn council action. Referral would overturn the split decision (4-3) which was taken by one council action that approved: Resolution No. 11660; Ordinance No. 4422; Resolution No. 15575; Resolution No. 11577; Resolution No. 11578; Resolution No. 11579 and Resolution 11649.
It may be that the Southbridge 2 ownership would voluntarily withdraw from the development agreement, as enacted by council on Dec. 4, 2019. Or SB2 entities might dissolve, merge, or attempt to sell their zoning interests. They have repeatedly, stated publicly, that SB2 ownership would do everything possible to prevent a public vote.
Apparently, SB2 ownership has requested that the council consider council action to repeal the enacted ordinances and resolutions, in their attempt to avoid the referendum all together.
The 4-3 split council decision, combining several statutory actions, was enacted with one vote. Reconsideration by a council member (on prevailing side) expired at 9 p.m. on Dec. 5, 2019. Enactment was suspended by referral petitioners within the 30 day, as validated by the court.
Council action vested both city-owned land and SB2-controlled property, according to Arizona Revised Statute Zoning processes:
Approved re-zoned -- blocks A, B, C, and D Type I & III zoning including waiving stepbacks, setbacks, height and density concessions.
Approved re-zoned -- block D (Rose Garden) city-owned property was up-zoned. Approved block D which shows excavation of Fifth Avenue.
Approved abandonment -- alleyways and some public right-of-way, city property was also up-zoned Type III.
Approved high density dwelling unit count above 50 units per acre. Approved at block B, 21 stacked dwellings with no on-site parking, located above a 14,000 convenience market with no on-site parking.
Approved simultaneously, termination of Rose Garden 2005 agreement and immediate sale of Rose Garden which consists of 124 spaces public parking property.
Approved the development agreement allowing the SB2 ownership to sell their position with significant vested up-zoning.
Approved the SB2 developer to purchase the Rose Garden with the option to sell their position.
Except for the development agreement and Rose Garden sale, all of the above were transacted by zoning application, staff review, public notifications, Planning Commission hearings, posted continuance and final council action.
The council cannot unwind a standing ordinance (one vote) which related the re-zoning of multiple parcels and multiple property owners, without going through the entire zoning procedure. Council might accept the termination of SB2 development agreement, but council action, vested the properties with up-zoning and waivers.
To "unwind" the above, each ordinance and resolution would have to be transacted separately, a nightmare.
The council should step aside, not interfere, and allow the referral to go forward for a public vote as scheduled. The Scottsdale citizens remanded the council decision to the voters. Any action to thwart the referral would circumvent their rights.
Editor's Note: David Ortega is a resident of Scottsdale and former City Council member.