Hello Friends of Scottsdale,
I am honored to lead as the Twelfth Mayor of Scottsdale. Thank you for supporting our vision of a city where the citizens are heard, where development is done responsibly and where businesses, education, innovation, healthcare and families can thrive. I will work every day to make Scottsdale a better city for you.
If we remain true to our values, we will ensure this great city remains a place of fellowship and opportunity. I look forward to fulfilling that commitment everyday.
Together, we are Scottsdale!

Mayor Dave Ortega
Mayor Dave Ortega: An Independent Thinker for an Independent Scottsdale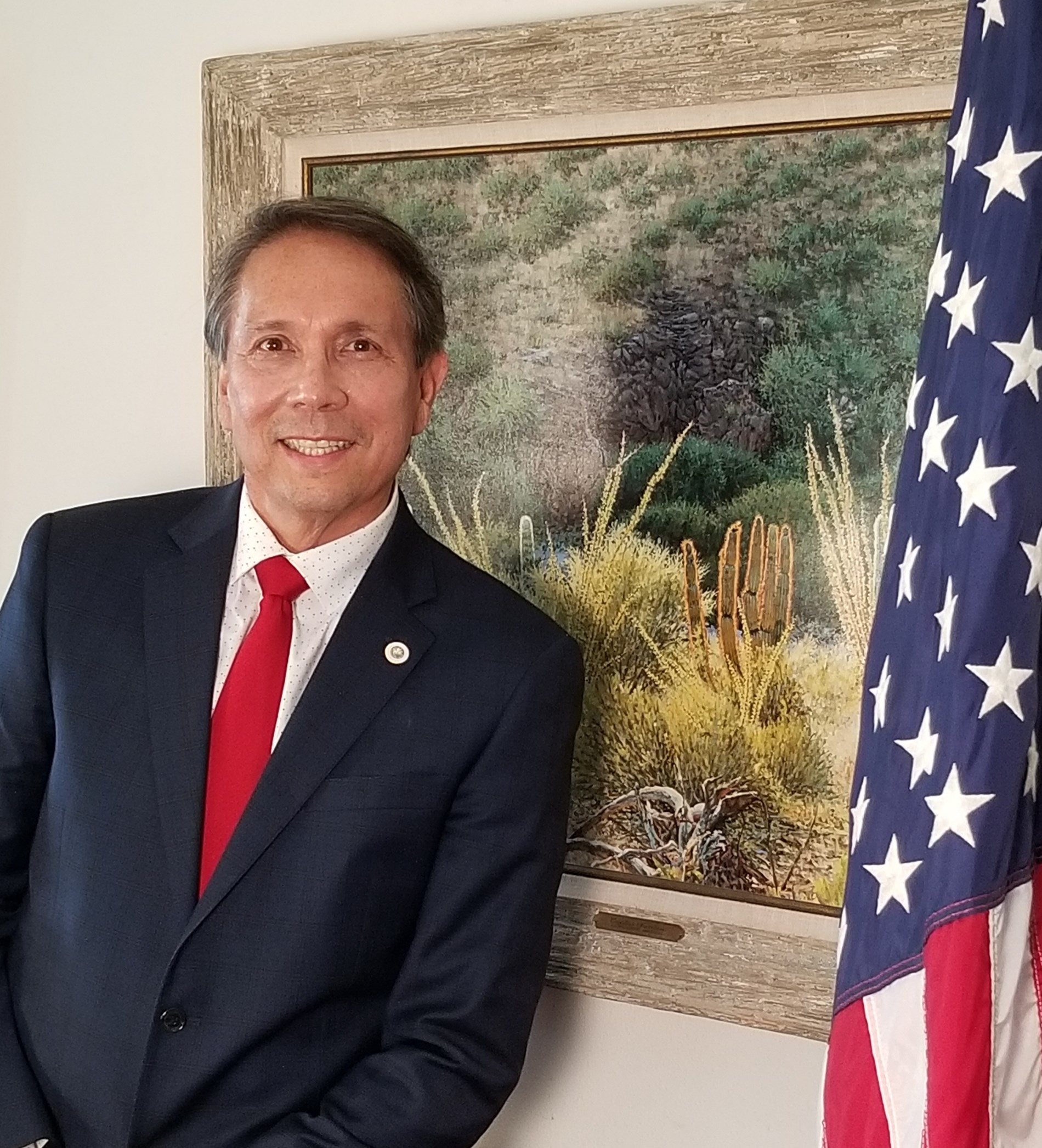 I ran for Mayor of Scottsdale because I know that Scottsdale is at its greatest when it strikes that perfect balance between quality growth, natural beauty, and strong and safe neighborhoods.
For over 44 years, working as a Scottsdale architect in the private sector, my experience has been pro-development. Scottsdale pro-development respects our Western heritage, honors mountain vistas and favors low density, whether in Old Town or near the McDowell Sonoran Preserve. Our values distinguish Scottsdale and will not be cast aside.
My unwavering support for the Scottsdale Police Department began when I married into a law enforcement SPD family. Lt. Michael Gannon retired from NYPD in 1966 and joined SPD to modernize the force. Chief Gannon retired in 1989 and oversaw completion of SPD Via Linda HQ. In 1980, I married his daughter. Mutual respect for the sacrifice, vigilance, accountability and community policing to "Protect and Serve" are embedded at my core.


Mayor Ortega Accomplishments and Key Positions:
Council unanimously approved Scottsdale Anti-Discrimination

Ordinance to protect all residents, visitors, employees, and Scottsdale City employees, effective May 20, 2021.

Police protection, Fire and EMT

safety, quality reliable city services and fiscal responsibility are priorities during this post-pandemic era. As mayor, working with the new council, we must efficiently align Level-of Service with revenues. On my watch neighborhoods, streets, businesses and schools will be protected.
The 2022-23 Budget increased funding for Police and Fire Departments by 10%. Under Mayor Ortega's leadership, the 2023-24 Budget provides for a new city Ambulance service, which can provide seamless interaction with Scottsdale Police and Fire.



Protecting neighborhoods

from proliferation of short-term rentals and massive block apartments is a priority. As mayor, I will work with municipal allies to reclaim local control at the Legislature.
Council enacted Ordinances to clamp down on Short Term Rental disclosure, disturbances, and increase enforcement and fines. Mayor Ortega represented the City to get legislative actionable reform.



General Plan 2035

written by all stakeholders must enhance our quality of life and support city economic vitality. We will move forward as a new council includes Distinctive Character to respect Downtown Core.
Mayor Ortega championed Prop 463-General Plan 2035-which voters APPROVED! GP-2035 assures quality of life, public safety, the arts, tourism, sustainable environment, keep Old Town character, economic vitality and so much more, for the next 10 years.


McDowell Sonoran Preserve

improvements must be citizen-driven and voter approved. I voted YES on Prop 420. As mayor, I will ensure that gateways are completed and the Preserve remains pristine.
Mayor Ortega dedicated Pima-Dynamite trailhead, the 12th and final gateway to the McDowell Sonoran Preserve. Pima-Dynamite has 300 parking spaces, bike and equestrian access, and the Art DeCabooter Amphitheater were Stewards, researchers, hikers and visitors can learn.



Buildout of citywide Bond 2019

capital improvements must move forward to expand our infrastructure.

As of May 2023, $75M projects are completed, in design, or underway citywide, as scheduled.




Stronger ties to Scottsdale schools

and Scottsdale Community College are vital. We are stewards of after school programs, joint use facilities, operations and recreation for our youth and seniors.
Mayor Ortega chairs the Sub-Committee authorized by Council to meet with Scottsdale Community College and SUSD on topics such as internships, safety and career development.


Voting Districts:

Mayor Ortega promised that residents should have equal representation at City Hall.

Mayor Ortega and Council received a Citizen Petition held a Work Study on Feb 15, 2022 to discuss three Districts of equal size, situated South--Central --North. Mayor Ortega and Betty Janik supported districts, but Council majority voted to do nothing. Mayor Ortega supports Charter amendments to eliminate At-large election, in favor of three D

istricts having two Councilmembers per District. District reform provides better local representation.
Sign Up for Updates
Thanks for signing up!